Web professionals: Expand your product offering,
Become a Harmonious Hosting Reseller!
Are you looking for a way to bring in more steady income while offering clients the valuable products and services that they already need? Consider becoming a Harmonious Hosting Reseller!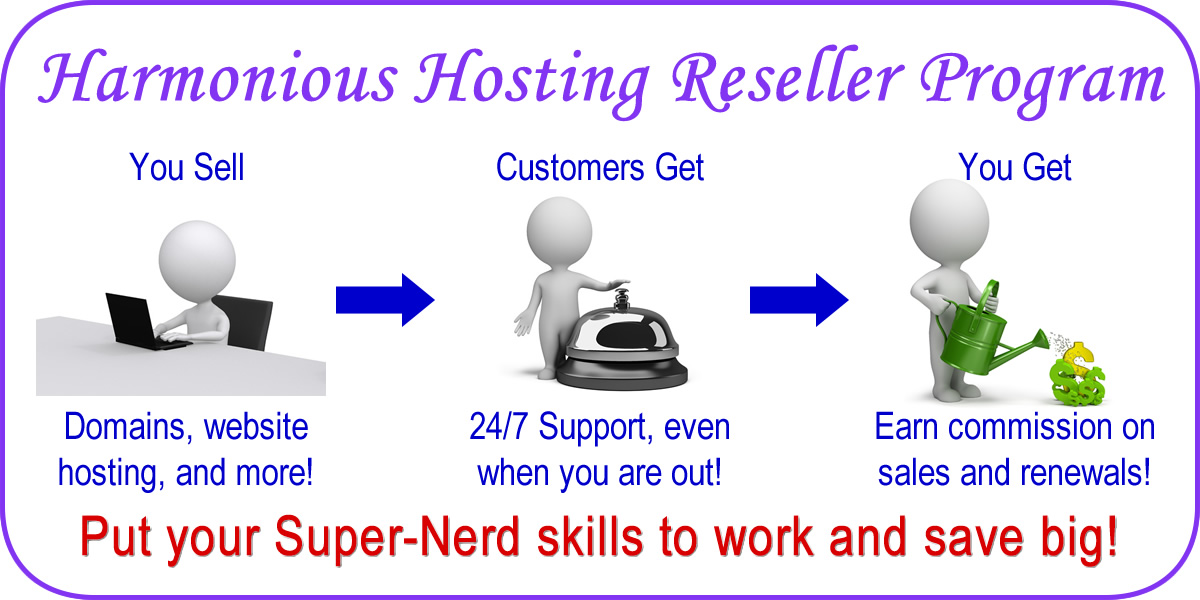 Want to know more? Use the contact form below. Be sure to include your time zone and a good time to call if you want a call-back. Otherwise I will email your response.
Reseller Program Available!
A great opportunity for web designers and other web professionals to earn extra income. Select the products you want to sell and set your own prices to earn a commission! Optionally give your customers access to 24/7 support, even when you are not available!
Harmonious Hosting Resellers get:
FREE Turnkey reseller store, similar to (Contact me for link!!)
FREE access to our WordPress plugin for more control over store content
FREE webhosting package, suitable for hosting multiple websites
FREE Email Marketing, send newsletters to your customers
FREE SSL Certificate, for use on the site of your choice
Great pricing when you buy from your own store
Reseller Reviews
I have tried multiple reseller programs over the years. Between the wide variety of products and services and the peace of mind that comes from knowing my customers have access to support even when I am on out of town, this is by far my favorite!
-- MH, Texas
Not making any sales on my new reseller site yet, but the hosting and SSL certificate that come with it were well worth the price!
-- AA, Texas
I have been selling hosting space to a handful of small customers for years now. Some of them have outgrown my current WHM and cPanel setup. Looking forward to transferring everybody to my new site!
I was hesitant at first. This program does let you pick your products and set your prices. But they have their limits. - The packages are pre-configured and you cannot sell below the "minimum" allowed price.
I am very happy with the selection now that I can offer cheap "Starter" hosting for about $1.50 per month and high-performance "Business" hosting.
-- ETD, Texas